Big Foot Draw‑Down Seals are made using a basic Tri‑Seal provided with holes for pump wires and wire sealing plugs.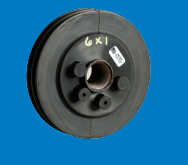 Installed just above the pump, it prevents contamination and air from entering the pump. It also centers and stabilizes the pump
and riser. Draw‑Down Seals can be installed with the head of the plugs down and used to seal in flowing wells.