Agricultural, nursery, and golf applications. Powder coated 12 ga. steel unit supports filters 24″ above the lake bottom. Unit has perforated notches that allow the stand to be altered to angle the pump/filter. This unit includes a 6″ pipe clamp and 30″ cable tie. Unit will also accept ratchet straps, etc for the fastening of intake pipe. Accepts optional T-posts. Tray accommodates several concrete blocks. Dimensions are 48″L x 24″W x 24″H. 46 lbs.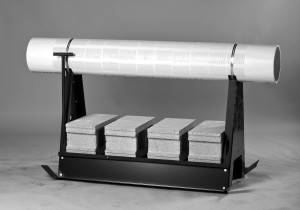 APPLICATION RECOMMENDATIONS:
Recommended for agricultural, nursery, and golf applications. Use in streams, rivers, ponds, lakes. Installing weight in tray or T-post kit recommended for rough water.
MINIMUM RECOMMENDED WATER DEPTH: 36 inches.
TYPES OF FILTERS ACCEPTED:
Accepts filters and screens up to 12″ in diameter. Recommend our 3-6HFM, 3-6HFMC, 4-8HFAG.