Heavy Duty TR2 Unit constructed of powder coated 12 gauge steel that accepts most filter/screens and submersible pumps. Supports filter 12″ above lake bottom. Accepts optional T-posts. Unit has perforated notches that allow the stand to be altered to angle the pump/filter. Tray accommodates two concrete blocks. Includes two pipe clamps and fluorescent Styrofoam marker. Dimensions are 40″L x 13″W x14″ H , 19 lbs.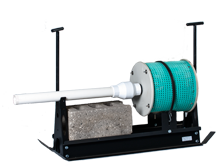 APPLICATION RECOMMENDATIONS:
Use in streams, rivers, ponds, small and large lakes – installing weight in tray or staking rough collars is recommended in rough water. Supports most filter/screens, recommended for submersible pump applications.
MINIMUM RECOMMENDED WATER DEPTH: 20 inches for filters.
TYPES OF FILTERS ACCEPTED:
Accepts most filters, which include: Mesh filters-vinyl copper, Big Foot filters – 40gal, 80gal, Slotted well points, Sure-Flo filters, Kleen-Flo filters, Algae Queen filters, Vu-Flow Basket strainer, and various others.